"The Bible...God's Story"
2015 Princess Award Winning Float
The Princess Award is judged by the Tournament of Roses as
Most Beautiful Float 35' or under
Our 65th Year of Witnessing the Gospel Message in the Rose Parade!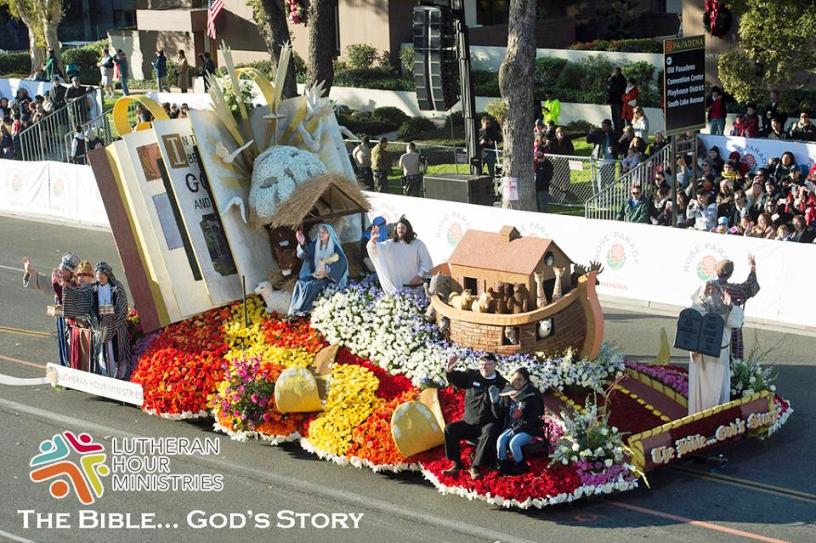 The 2015 Pasadena Tournament of Roses Parade theme, "Inspiring Stories" calls to the true source of Christian faith and life; the Word of God as recorded in the books of the Bible. The 2015 Lutheran Hour Ministries float lives out the parade theme as the story of God's salvation is revealed through the real stories of real people throughout the course of time.
The float displays some of the best loved stories which have inspired the faith of countless people throughout history. This year's float depicts an open Bible inviting viewers into the Word of God with inspiring stories of faith that leap forth from the pages.
The story of Moses who, despite the awareness of his own shortcomings, became God's instrument of deliverance as he lead God's people out of bondage in Egypt.
The faith of Noah who heard God's call to build a great ark and despite the insanity of this calling, saw it through.
The story of the Baptism of Jesus who, as he was coming out of the waters of the Jordan River, was acclaimed by the Father of Life as the beloved Son of God.
The story of the Nativity and the faith of a young woman named Mary who found favor with God and gave birth to Jesus, the Savior of the World.
As these stories burst from the pages of the Bible, we pray that many others would be drawn to these stories which have shaped and inspired our faith.
The Mission of the Lutheran Hour Ministries Float Committee is "to provide a Christian witness and hope in Jesus Christ to the un-churched, who view the float in person and through the media."
If you would like to join us in supporting this ministry the Lutheran Hour Ministries Float Committee would sincerely appreciate your donation. Click on the blue button: